Teachers
Robert, Sylvester, Jolet and Andrea form the team of teachers that provide the lessons in Eindhoven.
Robert
Robert dances the Lindy Hop since 1999. He got his inspiration from regular visits to the United States. There he learned that next to attending workshops the best way to advance in Lindy Hop is to social dance with as many different people as possible. In his classes he tries to stay as close as possible to the laws that govern the social dance floor. He focusses on simple moves in a number of variations. By mixing them up people can work on their lead and follow skills. Robert also likes to work with his students on musicality. He believes that music is the main driving power for all interesting moves.
Robert started teaching together with Chantal in 2002. They gradually built a small but steady Lindy scene in their home town Eindhoven, the Netherlands. They have taught at Lindy Hop workshops in the Netherlands, Belgium, Lanzarote and Germany. For one of these workshops they have been announced as the Lindy hop Think Tank. They are still wondering why.
Sylvester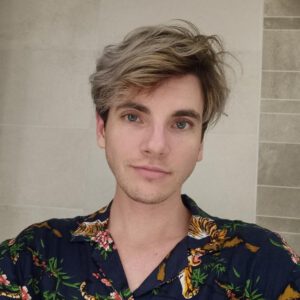 Sylvester has been dancing Lindy Hop for many years and is quite passionate about it. He attended many (international) workshops and events to become the dancer that he is today. When he was asked in November 2016 to start teaching Lindy Hop to grow the Eindhoven scene, he did not hesitate for a moment. Expect some happy and friendly instruction based on musicality and technique.